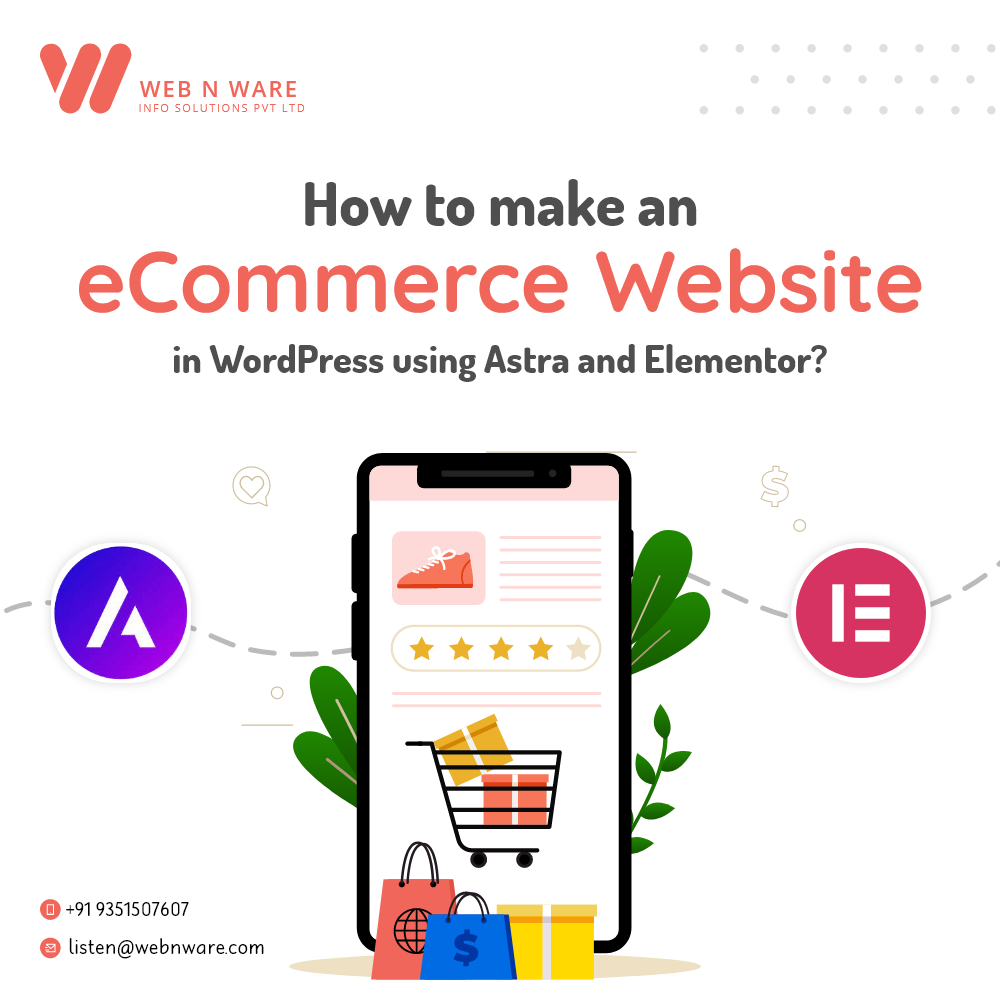 By Vikas Sharma | 0 Comments
If you have an urgent requirement for an ecommerce website, then there is a wordpress website development company in UK that might help you. With the help of Astra, Elementor and WooCommerce, you can build a great ecommerce website in hours. To build any website on WordPress, you need a theme and a few plugins. If you want to make your website more unique, that's where you can use a page builder. If you want to build the best ecommerce website in no time, the best combination of themes and plugins would be to use the Astra theme with Elementor page builder and WooCommerce plugin. Let's see how it works.
7 Steps to Create your Ecommerce Website through

Astra

&

Elementor
Step 1: Install Astra WordPress Theme
Astra is a free WordPress theme you'll find easily from the dashboard. Under "Appearances", go to "Themes" and click on "Install" for the Astra theme. 
Step 2: Install the Starter Templates Plugin
After you have successfully downloaded Astra, you to "Plugins" from the main menu and click on "Add New". Search for starter templates on the dashboard here and download the first plugin you find which is "Starter Templates – Elementor, Beaver Builder, Gutenberg & Brizy Templates".
Step 3: Pick Your Ecommerce Template
Once your Starter Templates plugin is activated, you'll find the plugin in the Menu under "Appearances". Go there and select Elementor. From the drop-down menu to the left of the search bar, select "eCommerce" and choose the template you like. Click on "Import Complete Site" to get it.
Step 4: Install Woo Commerce
From the WordPress plugin directory, you now need to look for Woo Commerce. You follow the same process you did earlier for downloading the Starter Templates plugin. Install and activate the free plugin.
Step 5: Start Building the Website Basics
Along with the theme and template you select, you get a website with some default pages and text. So, to start building your website, you go to "Customize" under "Appearance" from the main menu and start off. Here, you'll get all of Astra's features like drag-and-drop, live editing and advanced styling. 
So, in this step we build the header, footer, main menu and the structure of the website. We edit the text and images accordingly.
Step 6: Build the Online Store
Astra and Elementor are meant for designing the website. However, the online store is made on WooCommerce only, where you list the products, add payment gateway integrations and activate other ecommerce features. Since you've installed WooCommerce, you'll find it in the WordPress Customizer Sidebar to do so. From adding product image to updating all its stock and price information, everything is done here.
Step 7: Play a Little More with the Design of the Web Pages
This is where you use Elementor now. The page builder will help you work with your fonts, images, and design elements. Explore some of the great ecommerce widgets here such as Product Breadcrumbs, Custom Add to Cart, Upsells, Product Meta and WooCommerce Pages.
Final Step: Preview Your Website
This is something you actually start simultaneously with step 5, when you start building your website. Both Astra and Elementor will allow you to preview any changes you start making to the template. Even though they're available for free, you can get twice the number of features from their premium versions. That's why you need the best WordPress website development company in UK, so that you are able to make the most out of it.
Also Read:-
MORE